Updates Related To COVID-19
Message from Jason Bedell, Lead Pastor @ Forefront Church:
Our staff and leadership miss being together as a church and seeing every single one of you. From small groups, worship services, events, and more—we are feeling what we already knew to be true, we were built for in-person connection. While technology has been a blessing, it definitely is a stop gap to what God created us to be. The amazing surprise has been how God has used this time to continue to grow the church. More people are worshiping together than we've ever seen, small groups are thriving, giving (which was already healthy) has been stronger than we've seen in years, and all this during a global pandemic. The building slowed down during this time, but they've picked back up and it will be finished before you know it. We've seen baptisms, healing, and growth all due to God's amazing grace.
With all of the good news, it has still been difficult to manage. Schools closed, jobs furloughed, and in this time of change it has raised the level of anxiety and depression for many. I'm reminded daily of Psalm 94:19, "When anxiety was great within me, your consolation brought joy to my soul."
God's movement supersedes any other feeling we may have. It doesn't discount our feelings. God affirms us as people and simply says, "I have a better way." It is with His calming love and grace that we move into our plan to reopen in accordance with Federal and State Guidelines.
Recently, Governor Northam addressed the state and outlined a state-wide plan for individuals, businesses, and faith based locations on how to reopen. Our staff has taken some time to walk through all of the guidance given and what this could possibly look like for Forefront Church. A three phase approach was released, along with a special 50% guideline for churches to reopen immediately. We want to address all of the information that has been floated around and share our plan to reopen in tandem with the phases given at the state level. We chose to make this document thorough, along with the video component, to assure there is no confusion about the when, how, and why in our process.
On this page, below the video, you will find the following:
3 Phase approach to reopening Forefront Church
Chart outlining the state's phases and how they impact Forefront Church
Forefront's PPE response and cleaning protocol
FAQ about reopening and processes
Ministry Area Changes for Children, Students, and Adults
Contact information
We thank you for your time and patience as we move forward. Our prayers have been with all of you as you've navigated uncharted waters. Your love for your neighbors and our city has been awe inspiring. It has confirmed what we've always believed, "The church isn't a building or a bunch of stuff. It's people helping people to find and follow Jesus." While we never asked for a global pandemic or shut down, we will continue to trust God and move forward with grace and love.
Jason Bedell
Lead Pastor, Forefront Church
---
Updated 05.16.2020 at 06:39 EST
Forefront Church Proposed Reopening Plan
In this proposed plan, we acknowledge that the federal/state leaders could change guidelines at any time. All of these are currently based on the guidelines as of May 15, 2020. With this being fluid, we appreciate your patience as we get closer to a firm date of reopening. To view Virginia State Information concerning COVID-19, visit their website.
Phase 1
In the state's address, the 10 people or under mandate is still in place, masks for businesses urged, social distancing mandatory at a minimum of 6 feet, and no children's gatherings unless for essential workers only. With these requirements, not much changes for Forefront Church. This phase starts May 15 and has been said to last for 2-4 weeks or longer. Forefront's response would be:
Continue Sunday Worship Services Online
Small Groups meeting online via Zoom
Student Ministry via Zoom on Sundays at 5pm
Family Ministry Service will continue at 11:30am
No In-Person Gatherings over 10 people, continued social distancing
Phase 2
In the state's address, 50 people or under mandate is now in place, masks for businesses optional, social distancing begins to ease in private places, and social distancing in businesses will be maintained for adults and children. With these requirements, we begin to see changes for how we operate. The governor stated this phase could last 2-4 weeks or longer.
Continue Sunday Worship Services Online
Small Groups will have the option to participate in a "House Church" model for Sundays. Groups would gather together on Sunday during online services to worship and enjoy community. We would encourage groups, if you are able, to take advantage of the 50 person gathering easing. Members with substantial health issues would be cautioned to remain home and watch online. Discretion would be given to each person's personal choice.
Student Ministry via Zoom on Sundays at 5pm
Family Ministry Service will continue at 11:30am
No in-person gatherings at the building. That would include small groups who were meeting at the building previously. If those groups want to participate in the "House Church" model, they can decide on a group members home to use for that time.
As the building is closed, this would give us time to get the spaces ready for in-person gatherings when Phase 3 begins
Office hours would resume and we would ask anyone wanting to come and connect to schedule an appointment so we can assure the staff member you're wanting to connect with is available.
Phase 3
In the state's address, there is a removal on limits to all social gatherings, masks are optional, heightened cleaning standards, social distancing is eased, and possible other measures. With these requirements, we see a shift back to what we all know and love as the church moves back together.
Sunday Worship Services return in-person at 8:30am, 10am, and 11:30am
Online services will continue at 8:30am, 10am, and 11:30am
Full children's programming will resume during all services
Student ministry would return to regular evening gatherings at 5pm on Sundays
Small Groups will return to in-person gathering
Those groups who used the church building for meeting would resume meeting at the building
Office hours would resume and no appointment would be needed
Masks during this phase are optional, for volunteers, staff, and congregation. All information for entering phase three in VA suggests the easing of masks. They would be made available for anyone wanting a mask that does not have one.
Upgraded cleaning protocol would be in place along with all PPE items and signage required by state and local government
---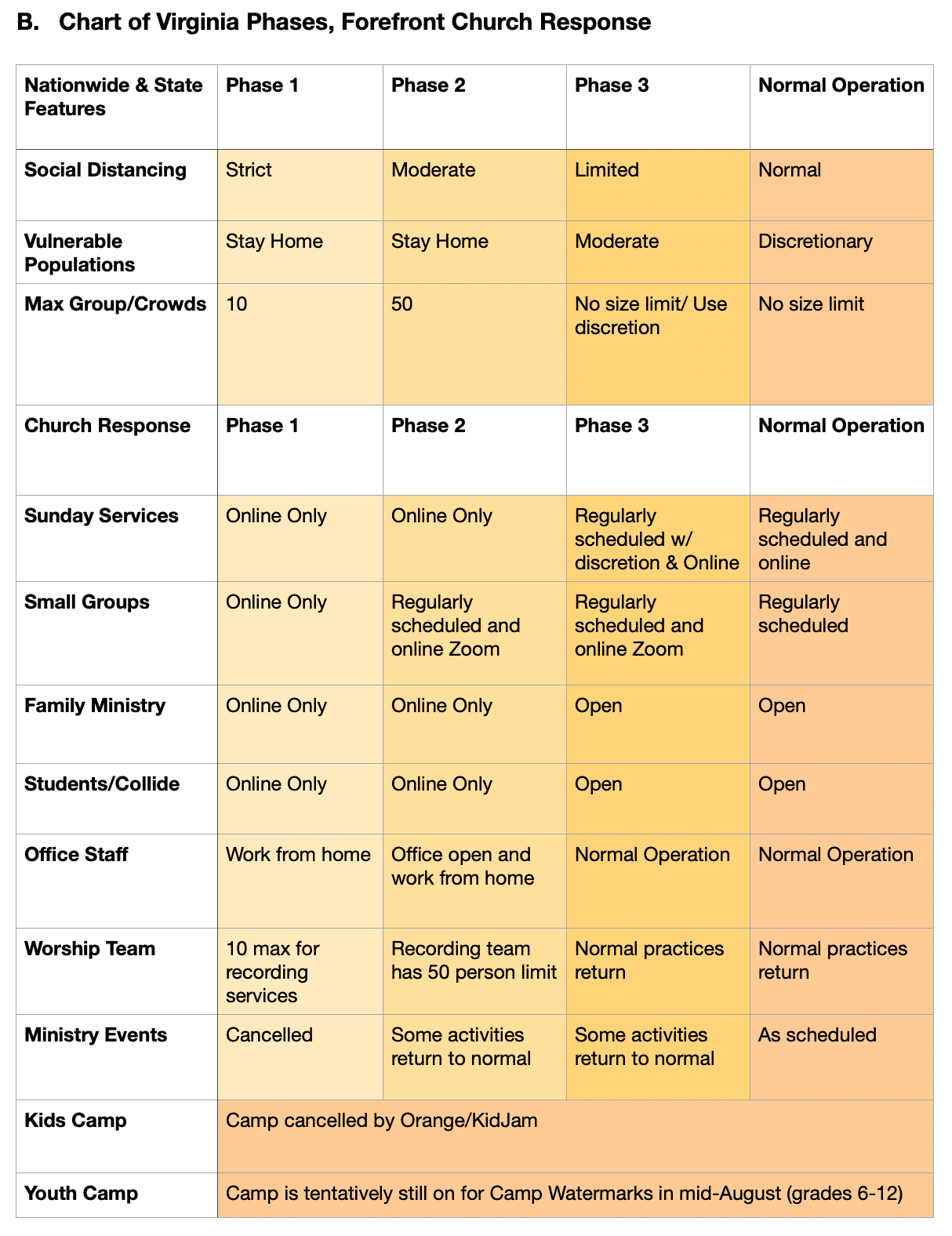 ---
C. Forefront Church PPE Response & Cleaning Protocol
Our staff has acquired the needed cleaning and PPE supplies to be able to ensure, to the best of our ability, that we can fall 100% within the guidelines given by the State of Virginia. This includes, but is not limited to:
Hand cleaning stations
Disposable masks
Disposable gloves
Commercial supplies
Bathroom upgrades
Pre-packaged communion
Offering stations at the doors
No-Touch Lobby Connections for Child Check-In & Get Connected iPads
Coffee area will reopen (date to be determined)
Commercial cleaning company regularly cleaning the building from top to bottom
All connection cards will move to digital until phase 3 is complete
COVID-19 signage across campus in compliance with guidelines at the state level
D. Frequently Asked Questions
Q: Why can't we open with the 50% guideline given by the Governor?
A: Great question. With our model of ministry, it would be terribly difficult to comply with the restrictions regarding a 50% opening and still do effective ministry. We have hundreds of people on campus, adults and children, at every service. The guidelines to open in this way would require all people to wear masks, mandatory social distancing at 6 feet for adults and children, no children's programming can be open, and all signage and PPE items in place. As we assessed this possibility, it would require not only all of the above, but to do this we would need to host at least 9-10 services every Sunday under heavy restrictions. It isn't very welcoming, kids are almost completely unable to social distance, we don't have a volunteer base that could facilitate 9-10 services every week, and if it causes us to go backwards from the experience we are already providing online, it doesn't make sense for us to force all of that simply to meet.
Q: Will we be required to wear masks when we return to church?
A: No. Masks will be optional in Phase 3 in accordance to all federal and state guidelines. We will have masks available for anyone who wants to wear one but doesn't have access to one.
Q: Are children's volunteers going to have any checks before serving with kids?
A: Yes, we will be checking with volunteers on their health before they serve. Each volunteer will stay home if they are feeling sick, have a fever, or showing any other symptoms.
Q: During adult service will we have different seating or will it be like we've known it to be?
A: In Phase 3, all churches and businesses are able to return to normal distance contact as they operated before isolation. Our rows will be spaced a bit more, but seating side to side will be the same.
Q: Will handshakes and hugs be restricted or can I hug all my people?
A: We love this question. During this time of change, we would encourage people to ask before going in strong for a hug. Be mindful of others and make sure they are open to a bear squeeze or simply a fist bump or elbow bump.
Q: When will things be back to normal?
A: Truthfully, we don't think "normal" has ever really worked for us at Forefront Church. We like to fit what we do to our community and city to reach people far from God. We are positive we will emerge from isolation with many lessons learned, new ways to approach connection, and holding on to the essentials of loving people with reckless abandon. We hope that we never get settled into anything comfortable, but always keep pushing to be people helping people to find and follow Jesus.
Q: Why did summer camp for the little kids get cancelled?
A: Orange and Camp Kidjam made the call to cancel their camps based on all the counsel they were given. They use college campuses all over the country and most made the decision to close, giving them very few locations to hold their camps. On top of that, they pull staffing from all over the country which introduced a problem of travel for all their team to each camp.
Q: I see student ministry camp is still happening. I'm concerned about what measures the camp is taking. Do you have any updates?
A: Camp Watermarks has consulted with experts to update their cleaning procedures, camp policy, and day to day operations to ensure all campers are safe during their stay during camp. They've also shortened each of their camps by a day to extend the time they have in between for cleaning. There are updates that have been released on all our student ministry channels concerning the changes.
Q: With "no touch" policies in businesses, will we still pass buckets and communion during service?
A: We will have pre-packaged communion that each person will receive on the way in, so we are not passing trays through the auditorium. Offering will be done at stations as people enter and exit the auditorium as well.
Q: How has this impacted the church? Attendance? Giving? New Building?
A: Short answer, it has impacted us in a good way. Attendance is up. We have more people engaging services than when we were in person. Isn't that awesome? We have members of our church who've never been to the building before. As far as giving, people's generosity has been phenomenal. We cannot remember a time in the last 8 years that giving was this strong. We've always had a generous church family, but this has cemented the fact that we are a church that knows what it means to be generous. Finally, the new building slowed down during the initial isolation period, but it's picked right back up and moving full force. We will have an update in the coming weeks about when it will open.
Q: What if someone tests positive for COVID-19 and has attended a Sunday service, small group, or event at Forefront?
A: In the event someone tests positive and has attended a gathering at Forefront Church, our first goal is to care for the person. They are required to quarantine for a 14 day period. We will do everything we can for them to help ease their burden. Next, we would immediately contact anyone that may have come into contact with the person that tested positive. As we contact people, we are required by the local health department to contact them and see what further steps need to be taken.
Q: I've heard there could be a second wave that could cause another shutdown or isolation time. What is Forefront's plan for that?
A: As we did in this time of mandates, we would follow the guidance of our federal and state authorities to comply in any way we needed to. We've seen that God can move during a time of isolation, so we will choose to move in faith and not fear, while also honoring the authorities that are in place.
Q: I have a pre-existing condition, but I want to come back as soon as we open. Is that okay?
A: Yes. We ask everyone to use their own discretion when deciding when and how to come back. If you are more prone to infection, please follow the direction of your doctors and medical experts.
Q: This may be a weird question, but how is the staff doing with all of this?
A: This is Jason answering this one. You are very kind to ask that. Our staff has been amazingly resilient during this. They all basically were fired from their current jobs and rehired for a much different role. It has led to longer work hours, learning new technology, and engaging people in new ways to keep people connected. They are doing well. Honestly they are all a little tired. Working in this way has not been easy on pastors, counselors, and others helping people navigate isolation and a global pandemic. We're proud of them and have continually encouraged breaks, creating margin, and shutting off devices when able. If you think about it, send them a note to say thank you and maybe share a story of how they've helped you. A little note goes a long way.
E. Ministry Area Changes and Updated Procedures
In this section you will find some ways each ministry area is updating their day to day operations to best serve you and our Forefront Church Family. This is not an exhaustive list, but we want to keep everyone in the know on how we are moving forward.
Student Ministry: 6-12 Grade
Adhering to all new cleaning and sanitation requirements
Serving only individually packaged food and drink with gloves
Increased space between rows for added caution
Minimizing physical contact during games, small group & large group
Family Ministry: Birth to 5th Grade
All "teething toys" and other small toys that can fit in mouths will be eliminated. Additionally, every used toy / item will be removed from circulation as it gets handled throughout the morning.
"Cleaning Attendants" will do walk-thru "swipes" on all main surfaces in between all services.
Children, ages 2 and up, will be encouraged to sit in chairs as opposed to the floor. Large groups gathering on floors/rugs will be eliminated and instead use tables and chairs during group time.
Hand Sanitizing stations will be conveniently located at all times.
Volunteers will be "assessed" every Sunday regarding any fevers or symptoms.
Creative Arts: Band, Tech, Set Design Teams
Midweek rehearsals resume as normal
Continue to wipe down all surfaces used (instruments, computers, sound board, microphones, etc)
Production stations will be cleaned before and after practices and services
Team members showing signs of sickness will be asked not to participate in practices and/or services.
Team members must wash hands frequently.
Small Groups
Recommend groups keep meeting through phases 1-3. (Normally we shift to a light schedule or groups take off over the summer). Because of the unique circumstances of the pandemic, groups are vital to connection for many.
Some Zoom accounts will be retained for use upon request.
Groups using the building will be required to perform a light cleaning of all areas when done. Instructions for cleaning will be provided.
Hospitality Team
Parking Team - No Change
Ushers
Pens and Connection Cards will not be used
Communion will be provided but not be passed
Offering buckets will be available upon exit from the auditorium
Connectors
Single Ipad will be used by the connector to show a visitor how to access the features of forefrontchurch.info. (No touch)
Kids' Check-in
Volunteers do check in for family
Hand sticker to family
Counting Team
One person with a witness, bag each offering with gloves.
Spray inside of bag and outside of bag with Lysol
Count on Monday
Other precautions will be communicated directly to the team
Coffee Bar - reopening to be determined
F. Contact Us
Thank you for taking the time to learn how Forefront Church is moving forward and reopening. If you have any questions, please contact us:
Email: [email protected]
Website: http://forefrontchurch.info/connect
Mailing Address: 2520 Holland Road, Virginia Beach, VA 23453
---
CURRENT OPERATIONS UNDER PHASE I
WEEKEND WORSHIP & ONLINE CAMPUS
Since national, state, and local government is shutting down schools and urging no gatherings over 10 people, we will NOT be gathering at 2520 Holland Road, but we're still the "church." Our team will lead our worship experience online and we will air the weekend gathering at http://forefrontchurch.info/live as well as on Facebook and YouTube. We highly encourage you to worship with us! We have some great stories to continue to share this week (grab your tissues if you were able to find some). Online Campus service will air Sundays at 8:30am, 10am, and 8pm.
---
FAMILY MINISTRY: Pre K and K-5th Grade
We understand the pressure you're feeling with having the kids home for an unknown period of time. With that also leads to a question of how to foster their spiritual engagement? Don't fret, we have a plan in place.
We have programming available for students. 11:30am on Sundays you can view and engage those experiences at Family Ministry Live, on YouTube, and in our Family Ministry Facebook Group. Our K-5th graders will experience a live host along with songs, bible teaching, and everything that they're used to... ONLY LIVE ONLINE! That tablet or device that they may normally play games on is now a chance to hear about the love and hope of Jesus.
It's being hosted by Becky Bruner, our Family Ministries Director each week at 11:30am on Sundays. Make sure to click the button above and join. We do not want your kids to miss out on a chance to learn about Jesus in a way that is just for them. Also, joining that group gives you exclusive access to parenting tips, connecting with our leaders, and learning about more ways to partner in guiding your kids.
Also, you can access all the wonderful music your kids listen to and love at: Orange Kids Music on Spotify
---
COLLIDE: Student Ministry, 6-12 grade
Our 6-12th grade students will engage online every Sunday Night @ 5pm on the Zoom App. You can email Lacy or your Student Small Group Leader for the passcode. After our online teaching, student breakout from their into Zoom Small Groups, an online group video chat. Students will receive an email or text message from their small group leaders inviting them to their virtual small groups. We're thankful to be able to continue connecting with our students in this way!
What is Collide? Well, a collision is simply the meeting of two forces at the same place. Often a collision can be just the thing we need because when two objects collide, at least one will walk away changed. In fact, every time our lives collide with Jesus, we walk away changed. COLLIDE is a time for students to gather where they will get have fun, get to know each other, connect with leaders who care about them, and learn from the Bible in a practical way. COLLIDE happens Sunday nights at 5PM on our YouTube Channel. You can find feed embedded above or subscribe on YouTube.
---
---
OFFERING
We encourage you to GIVE your tithe and offering online, or text GIVE to 757-606-9976. You can always mail in your offerings to:
Forefront Church
2520 Holland Road
Virginia Beach, VA 23453
While we're meeting together online instead of in person, we want you to be aware of two things:
1) 80% of our giving is done online and we are thankful for that use of technology.
2) Each week 3,000-4,000k of our offerings come in through cash and buckets donations in services. This goes a long way to meet needs in our community. If we are unable to meet, we encourage you to move all of your giving online to help ministry continue to happen.
---
SMALL GROUPS
As much as you are able, we encourage you to stay connected with your small groups digitally. For those already in a small group, you will be getting an invite from your leader to attend a Zoom video meeting up during your normally scheduled small group time. Not in a small group? If you'd like to join one or would like more information, you can find it here.
Don't have the Zoom App yet for meeting with your small group? Don't worry, we've made it easy for you to find. Click the link depending on your particular device and get ready for your online small group.
Zoom for iOS device: Download
Zoom for Android: Download
Zoom for Mac: Download
Zoom for Windows: Download